Hi everybody! I'm 51390、 your new contributor in this group.
I just wanna say Thank you to all the awesome artists contributing their beautiful art all the time and all the KnB fans for making this fan club active and sharing the love for this anime!!
よろしくお願いします!

Today I'm featuring the Kuroko no Basuke event in Namja Town (theme park). It's in Ikebukuro Area (Japan), at the Sunshine City (Mall). This event started last July 14th, and is only until September 2nd. So if you're thinking of going to Japan anytime soon, this is an event that you shouldn't miss!
EVENT'S OFFICIAL WEBSITE:
www.namja.jp/news/kurobas/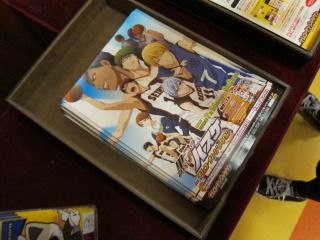 They'll probably be adding more games and merchandise next month, but for now I'll be sharing with you the things that I saw this time around.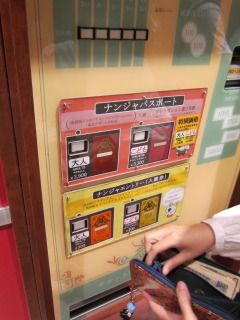 One ticket costs 300 yen (around $4) for adults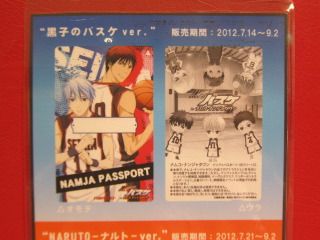 This is the limited edition PASSPORT ticket. I think it's good for 3 months? If you're going to spend a lot of days here then it could just be worth it lol.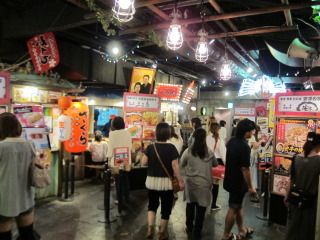 When you get inside Namja, there's a GYOZA STADIUM, which is a bunch of food stalls scattered around that area. You can find the Kuroko themed dishes when you look around.
Here's the Aomine-gyoza. I didn't order that but I find it hilarious how his face is randomly...just there.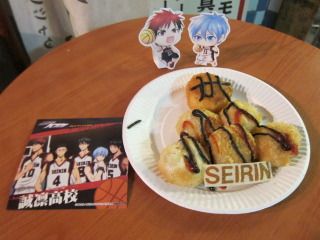 Seirin Team, gyoza! When you buy one of the themed foods, you get either a post card or sticker free. :'D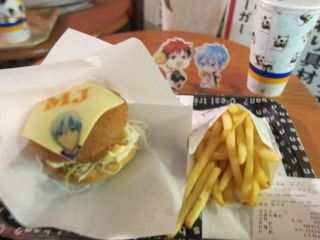 MAJI Burger Set. You get to eat Kuroko's face.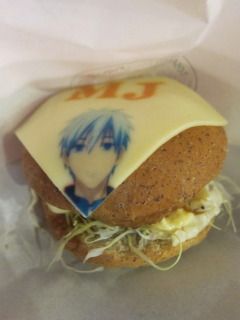 Here's a close up.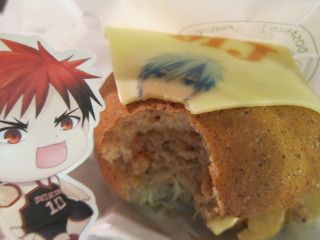 AAA!! Kagami got the first bite >A<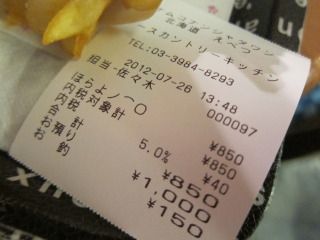 They also have funny receipts. This says "Here you go! )O 850 yen" Kagami's line from the scene in the anime where he throws a burger to Kuroko.
I didn't get a picture of it but one of receipts said "Midorima-kun 600 yen."
Man, he's cheap! lmao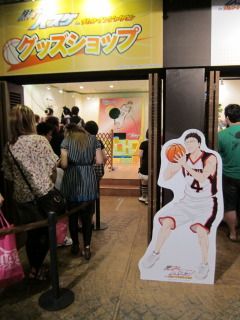 Heading to the second floor, there's a game where you can pass to Kagami.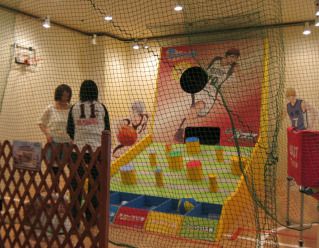 After you "pass" the ball will roll down to what kind of prize you can get.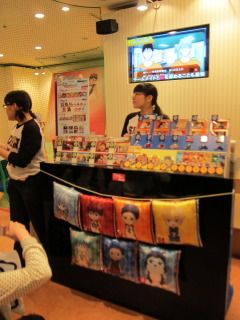 There are a lot of prizes. Pillows, Straps, Posters, and other collectibles.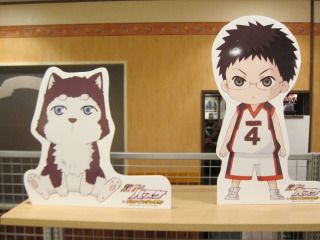 Around the shop are little cardboard chibis! They're so cute!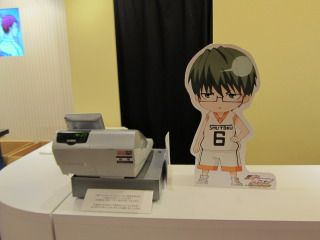 Guarding the register?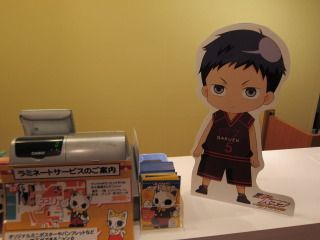 I seriously wanna take them home.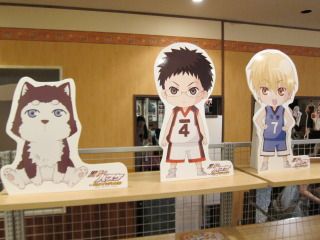 I don't know what the stage is usually used for but this time they set up life-size characters on them.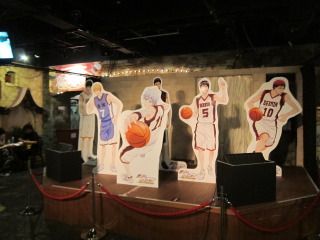 Get off the stage! I want to touch you!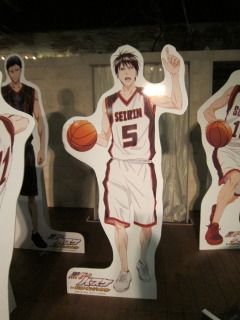 Off to the ice cream and cake land!!!
Again, there are stalls for the desserts too. With huge signs for their currently featured anime.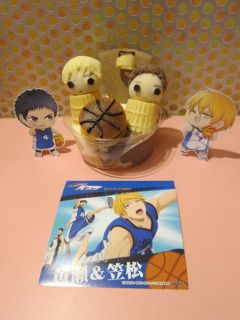 In this one, there's Kise & Kasamatsu's Stretchy Ice Cream.
And in another stall, A Murasakibara MaiUbo Gelato.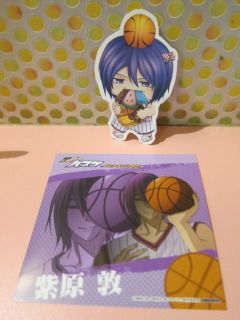 You can see all the other food and desserts (and what sticker it comes with) in that official website I said awhile ago.
Coach's Lemon Dessert. O_O Who is willing to try that?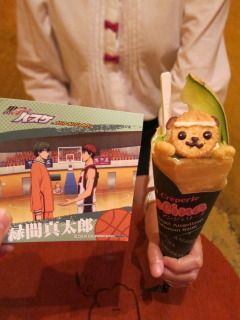 When ordering this you have to say "One Today's Lucky Item Is A Bear Nanodayo... Please." hahah~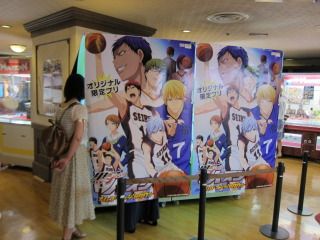 Then there's a "Sticker Picture" booth. You can take pictures with the characters.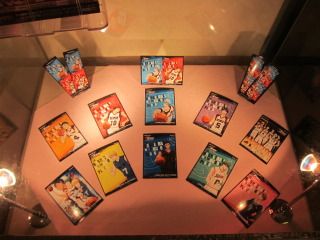 You're gonna be posing beside any of these characters.
Lastly, there's a shooting game. The line for this arcade game is insane!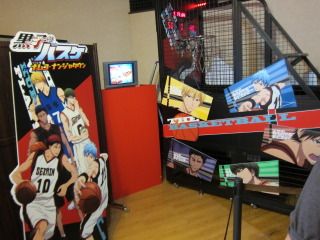 Stage 1, you shoot normally for a minute and try to get up to 40 points.
The last 10 seconds is MIDORIMA 3 point shoot TIME. You just get 3 points for the clutch time, you don't have to back up or anything. :'P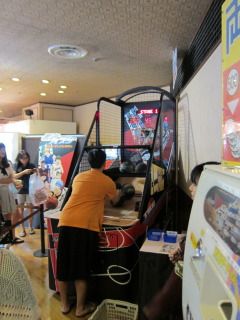 If you can clear that, you get to go to STAGE 2. Stage 2 is a little harder, the ring starts MOVING AROUND. @_@ Good luck! The highest score is 250!? Insane. The whole time I was watching the highest score I saw was around 120 and she barely missed a shot. Who can get 250!?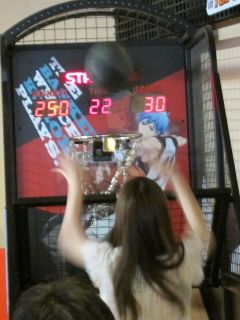 Lastly, the guest book.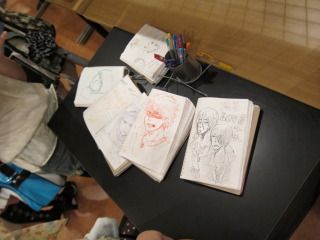 Write or Draw anything you want. Some people's drawings were incredible!
It's color coded too so it depends on which character you want a leave a message for hehe.















In other news, THE SECOND SET, for the Capsule Toys (Gashapon) have been announced to release on AUGUST.
Here's a preview of the characters in this set.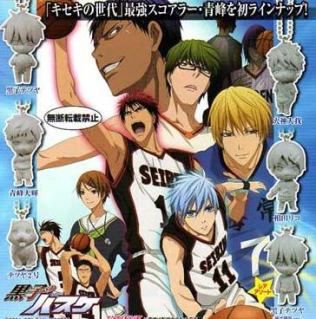 Kuroko (2 versions), Kagami, #2, Riko & Aomine















Character CDs: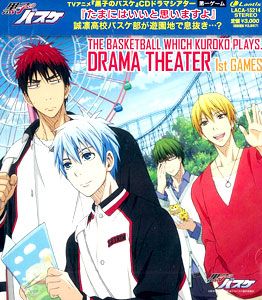 Drama Theatre: Amusement Park (Kuroko, Kagami, Kise & Midorima + Seirin Members)
Released: Kuroko Tetsuya, Kagami Taiga, Kise Ryota, Midorima Shintaro, Takao Kazunari
Late August Release (Duet Drama CDs): Kagami Taiga x Kuroko Tetsuya, Kise Ryota x Kuroko Tetsuya, Midorima Shintaro x Takao Kazunari
Mid September Release: Izuki Shun, Hyuga Junpei, Koganei Shinji
Early October Release: Kasamatsu Yukio, Kiyoshi Teppei, Aomine Daiki
Hope this has been something quite enjoyable to read and somehow informative too

THANK YOU SO MUCH FOR READING!!!
Since this is my first contribution, Please leave some feedback so I can improve on featuring things in the club journal. Maybe tell me what things you'd like to see or know about more. (Kuroko no Basuke wise)
:3
Upcoming Birthday: Kasamatsu Yukio (this sunday! <3)
-Hei